Bubble Safari Promotion
Comments

2
14,461pages on
this wiki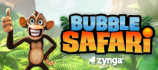 Bubble Safari Promotion

—Image © Zynga
Information

Start Date:
June 5, 2012
End Date:
July 6, 2012
Items released during this event
Total
0
Events

The Bubble Safari Promotion commenced on June 5th, 2012. In a new cross-promotion between Zynga's new game Bubble Safari and FarmVille, you can earn yourself free

Bubble Safari Unwithers!
Zynga offers these promotions as an incentive for FarmVille players to play one of their other Zynga games.
You'll find the usual in-game billboard advertising this cross-promotion on your FarmVille farm. There's also a chance you'll receive an invitation to play from an in-game FarmVille pop-up. Clicking on either will take you to Bubble Safari. You can also visit Bubble Safari by scroll down to the far right of your in-game neighbor bar, simply click on the Bubble Safair icon to visit the game.

Icon
Neighbor Bar

Billboard
Outskirt
Just for trying it out and playing once, you'll earn yourself 1 one free

Bubble Safari Unwither. You can earn three additional

Bubble Safari Unwithers when you reach Region 2 and six more

Bubble Safari Unwithers if you reach Region 4.
FarmVille and Bubble Safari Cross Promotion:
See Also
Edit