Acquisition
Edit
The Carousel is a decoration on FarmVille only available through buying a Pink Mystery Box or hatching a Treasured Golden Mystery Egg. The Carousel spins and the three animals which are a chicken, duck, and sheep, move up and down. As of December 18, 2009, the carousel can be found as a prize in a Golden Mystery Egg. It occupies 4X4 space.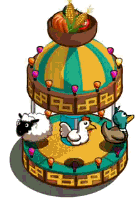 Country Picnic •

Red Bicycle •

Tire Swing •

Hot Tub •

Gold Gnome •

Water Tower •

Fire Pit •

Lounge Chair

Acai Tree •

Manor •

Gazebo •

Large Pond •

White Owl •

20 Fuel Refills •

30 Fuel Refills

Animal Float •

Carousel •

Donkey •

Water Tower •

Zen Garden •

SilverStreak Trailer

White Barn •

Super Spin Ride •

Golden Chicken •
Gumdrop Tree •

Snow Globe •

Carousel •

White Owl •

50 Fuel Refills

Koi Pond •

Waterfall •

Water Mill •

Porcupine •

Fire Circle •

Kiln

Big Horn Sheep •

Woodchuck •

Cactus Inn •

Adobe Shop •

Rock Hot Tub •

Oasis
Ad blocker interference detected!
Wikia is a free-to-use site that makes money from advertising. We have a modified experience for viewers using ad blockers

Wikia is not accessible if you've made further modifications. Remove the custom ad blocker rule(s) and the page will load as expected.