Carrier Pigeons are a decoration available in FarmVille. A farmer will find it in his gift box once he has subscribed to e-mail updates. This decoration was released on January 28, 2010. Since then, people who could not be a part of the offer can still obtain it by purchasing it from the Market.It is based on the real-life Rock pigeon, bred and trained to deliver letters. Because it cannot be harvested, it is not considered an Animal.
Animation
Edit
When the Carrier Pigeons are clicked on there is an option that says "Fly!" When clicked, a pigeon flies off its perch and in a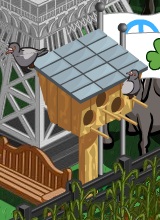 circle, finally landing back on the perch
When two Carrier Pigeons are put next to each other, it looks as if it is one big bird house.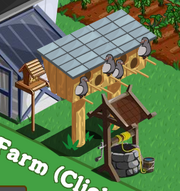 Birds
Nest boxes & Feeders
Birdbaths & Bird Fountains
Other
Ad blocker interference detected!
Wikia is a free-to-use site that makes money from advertising. We have a modified experience for viewers using ad blockers

Wikia is not accessible if you've made further modifications. Remove the custom ad blocker rule(s) and the page will load as expected.