Cow

—Image © Zynga
Availability

First date available:
unknown
Last date available:
available
Source:
Gifting or Market
Cost:
 300 coins

World Location:
all
Tile type:
land
Information
Size:
2x2 (an area of 4 squares)
Storage:
Cow Pasture, Dairy Farm
Harvesting
Harvest description:
Milk
Time until harvest
(on farm): 1 day
(in building): see article text
Harvest for:
 6 coins

Profit
per square
(on farm):
 0.06 coins/hour

Husbandry
How-to:
Breeding Cattle
Gender:
♀ Female
Offspring:
Calf
Alternate breeds:
This box: [view]
The cow is an animal available on FarmVille. Cows give milk worth 6 coins. A cow is ready to harvest in 1 day.
Acquisition
Edit
This animal is available in the market for

 300 coins. It is also available as a free gift.
When cows cost 300 coins, they took about 50 days to make a profit, 48 days to make a profit if you sold it. But now that they are available as gifts, they are immediately profitable.
Since March 22th, 2011 you could purchase a cow from the Market for 300 coins.
Adoption
Edit
For a period of time cows were available for adoption.
Image

Status Update


—Image © Zynga
Player was farming when a lonely cow wandered onto their farm in
FarmVille. She feels very sad and needs a new home.
Up to 5 (five) Dairy Farms could be purchased and placed on each farm. Each fully upgraded Dairy Farm could hold up to 40 (forty) cows or bulls of any type, including the Cow. Originally, only 1 (one) bull could be placed inside each Dairy Farm.
A Dairy Farm can be harvested every 1 day. When harvesting a Dairy Farm containing at least one Cow and any bull, players have a chance to find one Calf. When this Calf is shared to the player's wall, it may be adopted by the player's friends.
| Offspring | Parental Combination | Status Update |
| --- | --- | --- |
| —Image © Zynga | + | Player was tending their cows when an adorable Baby Calf caught their eye! This Baby Calf is already eager to explore the world on their own and is looking for a new home. |
The Cow can be stored in the Cow Pasture. The Cow Pasture can be harvested every 1 day. When harvesting a Cow Pasture containing at least one Cow, it is possible to find a Calf or Animal Feed. One Calf or Animal Feed is for the player, and can be placed in the player's gift box. The other Calf or Animal Feed can be shared to the player's wall.
Mastery
Level 1
Level 2
Level 3
Total
5
8
17
30

—Image © Zynga
Appearances
Edit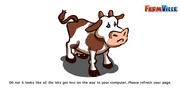 In
Mafia Wars
, a mob game,by Zynga, the same company that made FarmVille, a Zombie Cow appeared as a Halloween 2009, movement item.
The Cow is also featured in various items, Ice Skate Ring, Cow Kicker, as a head on the Animal Float, Balloon Stand, Snow Globe, and the back half of a cow is seen kicking its legs on the Cow in Snowpile. The cow also has its own topiary. There is also a ghost cow which rises from the Halloween Event decoration, Tombstone.
A cow also appears on the FarmVille failed loading page (pictured) which shows a sad cow.
From January 6 to January 12 a Cowprint Event took place which featured various items with a cow print instead of their usual coloring, as well as the giftable Milk Jug.
Collections
Edit
The rare cow bell collectable for the Country Kitsch Collection could be found while harvesting cows.
Alternate Breeds
Edit
Brown cows and Pink cows could be adopted from other farmers. These produce chocolate milk and strawberry milk, respectively. Referee cows could also be adopted for a limited time. Then B0V1NE-09, previously called Alien Cow, which are lime green cows, could be bought for a limited time, which produce a substance called Milktonium. Pink Patch Cows could also be bought for a limited time and produce strawberry milk like normal Pink Cows. Kelly Green Cows could also be bought for 14 FV Cash for a limited time and produce shamrock milk. A Fan Cow which is orange in color could be purchased for coins until it received 3 million fans, and then it became available for coins. More cows are being introduced all the time, see Cow (disambiguation) for a full list.
The Cow is based on the real world dairy cow.