The Crashed UFO (originally called ROS-1947) was a limited edition Decoration available on FarmVille.
ROS-1947 is a reference to the Roswell Alien Crash, which occurred in 1947.
Acquisition
Edit
The Crashed UFO was released along with other items as part of a space themed update. The item is no longer available.
It was re-released on June 23rd, 2011, as part of the FarmVille Birthday Classics event. It was available for 1 day, as part of the UFO theme, on the 8th day.
One Crashed UFO cost

 30 cash, and granted
 700 experience when purchased.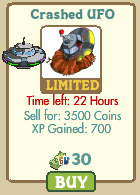 Ad blocker interference detected!
Wikia is a free-to-use site that makes money from advertising. We have a modified experience for viewers using ad blockers

Wikia is not accessible if you've made further modifications. Remove the custom ad blocker rule(s) and the page will load as expected.