The Enchanted Glen (farm) is an extension of FarmVille and is the 9th Farm, excluding the expansion farms and mini farms.
Acquisition
Edit
It stated its early access on January 7, 2013 for players who are willing to pay
 45 cash. It was released for free to all players on January 14th, 2013. You needed to be at Experience Level 15 or above to use this extra farm.
On October 1 2013; Zynga made all farms including this one accessible to all players, even if you have not performed any of the required quests and never have visited this farm before. You needed to be at Experience Level 15 or above to use this extra farm.
Early Access
Edit
If you buy early access you will get:
Early Access to Enchanted Glen
Enchanted Glen Crops
Enchanted Glen Market items
Free Gnome Gift
Access to exclusive quests & its rewards
Starting your farm
Edit
You start your farm of with the following:
Stationary buildings:

1x

Home Mushroom (Stage 1)
1x

Rivermist Fortress (Stage 1)
1x

Glen Gnome Garden (incomplete)

Purpose buildings:

1x

Glen Orchard (incomplete)
1x 20px Market Stall

Crafting buildings:

1x

Enchantment Shop (incomplete)
1x

Fairy Kitchen (Stage 1)

Plots:

12x Land plots, with room to add more.
Fairy Points
Edit
Main article: Fairy Point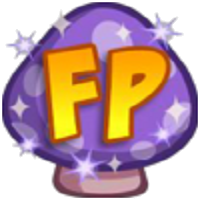 Fairy Points
, commonly termed as
FP'
s, are the new experience system for Enchanted Glen. These are similar to the
Spook Point
/
SP
system in
Haunted Hollow
,
Zen Point
/
ZP
system in
Jade Falls
and
Cheer Point
/
CP
system in
Mistletoe Lane
. Similarly, you have to get started at Level 1 once again.
How to gain FP
Edit
You can earn these points in a number of fun ways:
As with previous expansions, all players will start out as Level 1 in Enchanted Glen, regardless of your level on your Home Farm or other expansions.
The following items are exclusive to the Enchanted Glen farm.
Animal Breeding Pens
Edit
Crafting - Fairy Kitchen
Edit
Similar to other FarmVille destination farms, FarmVille Enchanted Glen will have its very own unique crafting cottage.
Main article: Fairy Kitchen
Similar to other farms, Enchanted Glen will have its very own unique crafting cottage called the Fairy Kitchen. It is the place where you will craft recipes. Here is what it will look like in its five stages:
Decoration Buildings
Edit
Exclusive - Enchantment Shop
Edit
Main article: Enchantment Shop
Enchantment Shop Building Stages
Purpose Buildings
Edit
Decorations
Edit
??
Enchanted Glen Vehicles
Edit
Hidden Treasure - Trolls
Edit
Main article: Troll
As with the more recent farms, you will have hidden treasures, in the form of Trolls, scattered through out the farm. They will appear as one of four sizes; Small, Medium, Large and Extra Large. Each Troll size will be displayed in 3 stages as you work on removing them.
River Mist Fortress
Edit
Main article: Rivermist Fortress

Rivermist Fortress is an exclusive stationary building, just like we built the Volcano Reef on the Hawaiian Paradise (farm) or teh Lighthouse Cove on the Lighthouse Cove farm and other exclusive buildables of all recent farms. You will be going through several stages of the Rivermist Fortress.
Home Mushroom
Edit
Main article: Home Mushroom

Along with the Rivermist Fortress there is another stationary building called the Home Mushroom that will be exclusive to the FarmVille Enchanted Glen farm! What a perfect abode for FarmVille's Enchanted Glen!
The Home Mushroom has at least 9 different construction phases and appears to be harvestable for Gifts as well.
Enchanted Pond Escapade
Edit
Main article: Enchanted Pond Escapade
Like on several previous farms you will here have farm escapade aka challenges. Enchanted Pond Escapade is exclusive challenges and work the same way like Nicks Running for Mayor Challenges on Mistletoe Lane (farm).
Beat Enchanted Glen
Edit
Rewards for finishing challengers are

 2,000 fairy points,

 4,000 fairy points, 3 Pack of Turbo Chargers and an Instant Grow Flight. For finishing all 4 tasks you will get a Beat Enchanted Glen Trophy and the Enchanted Glen License that will allow you to connect Enchanted Glen storage with your transferable storage system.
Farm Expansion
Edit
Main article: Expand Farm
Enchanted Glen Farm Expansion Table
You start out with the usual 12x12 farm.
Image
Upgrade
Size 1
in Plots
Plot Limit 2
Size 1
in 1x1
squares
Total
squares
usable 3
Currency Costs
#
Name
Land
Water

Coins

Cash
-
Default Farm
12x12
113
13
50x50
2,500 - 2 3
2,498
-
-
1
Tiny Thicket
14x14
158
19
58x58
3,362
10,000
20
2
Mushroom Meadow
16x16
210
25
66x66
4,354
25,000
30
3
Toadstool Terrace
18x18
252
32
74x74
5,474
50,000
40
4
Fairy Ring Field
20x20
318
40
82x82
6,722
75,000
60
5
Nutmeg Knoll
22x22
392
48
90x90
8,098
1,000,000
80
6
Fairy Forest
24x24
473
57
98x98
9,602
1,500,000
100
7
Honey Hollow
26x26
559
67
106x106
11,234
2,000,000
120
8
Goblin Grove
28x28
652
78
114x114
12,994
3,000,000
150
9
Charmed Circle
30x30
 ?
 ?
122x122
14,882
4,000,000
180
10
Fairy On The Green
32x32
 ?
 ?
130x130
16,898
6,000,000
200
11
Tea Cup Terrain
34x34
 ?
 ?
138x138
19,042
8,000,000
220
12
Elven Woodland
36x36
 ?
 ?
146x146
21,314
10,000,000
250
13
Fae Field
38x38
 ?
 ?
154x154
23,714
12,000,000
280
14
Pixie Plot
40x40
 ?
 ?
162x162
26,242
15,000,000
300
15
Viled Vale
42x42
 ?
 ?
170x170
28,898
18,000,000
320
16
Bewitched Plantation
44x44
 ?
 ?
178x178
31,682
20,000,000
350
17
Enchanted Estates
46x46
 ?
 ?
186x186
34,594
22,000,000
360
18
Magical Manor
48x48
 ?
 ?
194x194
37,634
24,000,000
370
19
Glamorous Glen
50x50
 ?
 ?
202x202
40,802
26,000,000
380
20
 ?
52x52
 ?
 ?
210x210
44,098
 ?
 ?
21
 ?
54x54
 ?
 ?
218x218
47,522
 ?
 ?
22
 ?
56x56
 ?
 ?
226x226
51,074
 ?
 ?
23
 ?
58x58
 ?
 ?
234x234
54,754
 ?
 ?
24
 ?
60x60
 ?
 ?
242x242
58,562
 ?
 ?
Image
#
Name
Size 1
in Plots
Land
Water
Size 1
in 1x1
squares
Total
squares
usable 3

Coins

Cash
Upgrade
Plot Limit 2
Currency Costs

All farms have two extra rows of 1x1 squares around the edge, for example, the default 12x12 plot farm is actually 50x50 squares (48+2x48+2).
Due to the way the water section is curved there are several squares that can not be uses for crop plots, but are still usable for Trees, small Animals and small Buildings, this is why the Land plots and the Water plots do not add up and equal the total plots available for the farm size.
There are two squares that are totally unusable; normally located in the top corner of the farm.
This is where the avatar will try to move towards, when harvesting the Home Mushroom and the Rivermist Fortress.
See also
Edit
Normal/Standard farms:
Release order
Alphabetical order