Giant Holiday Candle Tree
Comments

0
14,422pages on
this wiki
Giant Holiday Candle Tree

—Image © Zynga
Availability
Warning! This template is using obsolete parameters! This may cause this Giant Holiday Candle Tree or others to display inappropriately (or not at all). See the template page {{Tree}} for more information.
First Date Available
unknown
Last Date Available
present
Information
Source
Market
Points gained:
 15 XP

Growth and Storage
Classification
Level 2
Produces
• Giant Holiday Candle Tree seedling
Neighbor Reward
Mystery Seedling
Profitability
Time to grow:
(on farm): 2 hours
The Giant Holiday Candle Tree is a tree available on FarmVille. It was released on the December 11th, 2011 as part of the Winter Holiday Event (2011). This tree can be purchased from the Market at

 12 cash. This tree will reward a farmer with

 15 XP experience points and 150 coins every 2 days. If purchased from the Market it will take 12 harvests before a profit is made.
It could also be obtained through Mystery Seedling produced by a Holiday Candle Tree.
It is classified as a level 2 tree. When placed in the orchard, there's a possibility to produce a Giant Holiday Candle Seedling.
Main article: Mastery
Mastery
Level 1
Level 2
Level 3
Total
75
150
225
450

—Image © Zynga
Growth Chart
Edit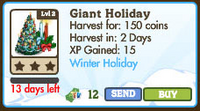 See Also
Edit