Green Peppermint
Comments

0
14,337pages on
this wiki
Green Peppermint

—Image © Zynga
Availability

First Date Available:
December 9, 2011
Last Date Available:
present
Information
Harvest for:
 120 Coins

Growing Time:
8 hours
Points gained:
 2 XP

Costs:
 15 Coins


Green Peppermint seeds are a crop in FarmVille. It was originally released on December 9th, 2012 as a reward for contributing with 20 USD on Save the Children campaign. Once you donate, you will receive a 7 day permit to plant an unlimited amount of Green Peppermint on your farm. Similar to other special permit required crops, Green Peppermints will never wither.
It was re-released on December 15th, 2012 as part of Vintage Holiday Event. It costs

 15 coins to plant and gives

 2 XP when planted. It takes 8 hours to grow and can be harvested for

 120 coins.
.
Main article: Mastery
Mastery
Level 1
Level 2
Level 3
Total
400
800
N/A

—Image © Zynga
Stall and Bushel
Edit
Growth Phases
Edit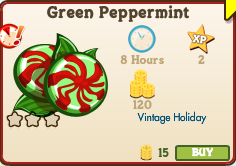 Seeds

All farms/non-restricted

Farm Specific Crops

Australian seeds/crops go here!

Unreleased Crops

† - Early Access purchase required       ‡ - Limited Edition seed