The Grey Tabby is a prize available in a Present or Mystery Gift. It is based off the real world grey tabby cat. The Cat Lady ribbon can be earned by brushing cats of this type.
It can be found as reward for using dog treats in Doghouses, after you get the entire dog series.
Main article: Mastery
Mastery
Level 1
Level 2
Level 3
Mastery Total
12
20
39
71


—Image © Zynga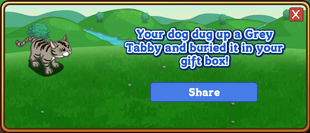 See also
Edit
Ad blocker interference detected!
Wikia is a free-to-use site that makes money from advertising. We have a modified experience for viewers using ad blockers

Wikia is not accessible if you've made further modifications. Remove the custom ad blocker rule(s) and the page will load as expected.