The Hawaiian Paradise is an extension of FarmVille. It is the fifth expansion after the Winter Wonderland and offers a fifth farm if you count the home farm every player has from the beginning.
Similar to previous farms, here you have treasure that needs to be opened with Crowbars (Buried Treasure on land) or Fishing Nets (Sea Treasure in water). Again you have small, medium, large and extra large treasures.
When you get there you can start to build:
Acquisition
Edit
It was first mentioned in FarmVille short time after Winter Wonderland (farm) was released. FarmVille's released the 5th Farm on the February 28th, 2012 to start with early access for
 45 cash. It was released free to all players on the March 6, 2012.
On October 1 2013; Zynga made all farms including this one accessible to all players, even if you have not performed any of the required quests and never have visited this farm before. You needed to be at Experience Level 15 or above to use this extra farm.
New Currency - Coconuts
Edit
You start with 5,000 coconuts and can earn more from harvesting crops or trees on Hawaiian Paradise farm.
Similar to the previous Lighthouse Cove and Polar Train Station (which is on the Winter Wonderland farm), you will have the Volcano Reef that can be upgraded in 10 stages with 3 types of building materials. Like the previous 2 farms there is a limited number of plots (see more on Farm Upgrade)
New Plot type - Water
Edit
This is the first farm to have 2 types of plots - Water Plots and Land Plots. Usual crops can be seeded on land crops. Some new crops, like Water Oysters and Shrimp, can be planted only on water plots.
Farm preview
Edit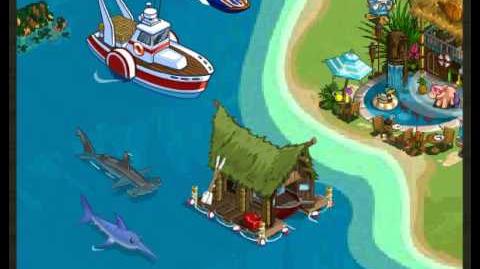 Early Release
Edit
Volcano Reef
Edit
Building the Volcano Reef will give you chances of getting presents everyday.
Harvesting the Volcano Reef will give the farmer a gift and one to share with a "Your Surf Just Delivered..." message.
The Volcano Reef is similar to the previous Polar Train Station and Lighthouse Cove. There are 10 stages, and you have to build it using the following materials:
| Stony Coral Piece | Volcano Monitor | Baby Fish |
| --- | --- | --- |
| | | |
| x 268 | x 268 | x 268 |
The following items are locked to the Hawaiian Paradise farm.
Reveal Treasures
Edit
Unwither Ring
Edit
Unwither Ring Appearances - for more information regarding Unwither Rings please see Unwither Ring Unwither Ring available on the March 4, 2012 for a limited time for
 250 cash. Also, for on a limited time sale for
 225 cash on the March 9, 2012.
Farm Expansion
Edit
Beat Hawaiian Paradise
Edit

Reward for finishing all 4 tasks is Hawaiian Paradise Shipping License that will connect your Hawaiian storage with other storages that also have license.
See also
Edit