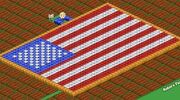 Hay Bale Pixel Art (or Hay Bale Art, Hay Art) is the act of creating an image using hay bales (and occasionally other accessories such as animals, trees, field, etc). Because the hay bales are small and square, they can be used as pixels to create the artwork. Furthermore, due the the vast array of hay bale colors available, many different images can be created. It is not uncommon for a farm using hay bale art to be featured on the FarmVille Loading Screen. Although most hay bale art is very simple, there exist some very complex images, required a long time to create (some of which are featured on this page). Some people qualify this as 'real' art.
Creating Hay Bale Art
Edit
Programs such as Microsoft Excel are helpful, as they provide a grid to map out your picture. On the tab menu, go to Sheet, then Background, and choose a picture you would like to create.
See Also
Edit
Ad blocker interference detected!
Wikia is a free-to-use site that makes money from advertising. We have a modified experience for viewers using ad blockers

Wikia is not accessible if you've made further modifications. Remove the custom ad blocker rule(s) and the page will load as expected.