The Holiday Tree is a Building/Tree in FarmVille. It became available with the Winter Holiday Event. The tree stored special gifts, called presents, that you could receive from you friends. Presents could be opened beginning on December 24, 2009.
Using Holiday Tree
Edit
When entering the farm, a new Holiday Tree was stored in the Gift Box. Once the Holiday Tree was placed on the farm it acted as a special storage item that can only store presents. These presents were highlighted in green and were located on the top row of the gifts page. After accepting the special gift(s) they were moved to the Gift Box. When clicking "Use" from the Gift Box menu, the present was automatically added to the Holiday Tree. The Holiday Tree grew larger for every 20 presents added.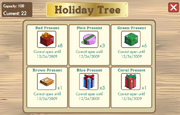 The tree cannot be sold, but it can be deleted via the delete tool. The special gifts (called presents) can be sold from the Gift Box for 5 coins each.
Beginning the 10th of December, 2009, a Holiday Tree could be purchased from Market for 10 coins; however, farmers were still limited to only 1 holiday tree.
On
December 24
, 2009, gifts could be opened and additional gifts were still allowed. This way, you can have up to 130 gifts (100 tree + 30 gift box), plus any extra received during the opening period.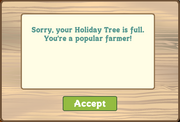 Presents
Edit
Main article: Present
The following are all presents that were available to put under a Holiday Tree.
The first 100 presents opened contained items that were usually highly sought after. After the first 100 presents have been opened, every present opened after this will contain a decoration or non-FarmCash items
Holiday Tree will gain additional decorations and grow in size for every 20 presents.
| Phase 1 | Phase 2 | Phase 3 | Phase 4 | Phase 5 | Phase 6 |
| --- | --- | --- | --- | --- | --- |
| | | | | | |
| 1-19 presents | 20-39 presents | 40-59 presents | 60-79 presents | 80-99 presents | 100 presents |
Special Presents
Edit
When a Player's tree grows and posts it to their wall, the Players friends can receive a special present. The post said the following:
| Image | Description |
| --- | --- |
| File:Holiday tree-icon.png | Player is offering a SPECIAL Holiday Present to their friends to thank them for all the Presents! |
A Gold Gnome is on the top of the phase 4 tree.
A Silver Duck is on top of the phase 5 tree.
A Gold Duck is on top of the phase 6 tree.
Every time your tree grows or reaches a number of gifts which is a multiple of 20, the player will find a pile of special presents, This means that if you have 100 (or 80, 60, etc.) presents and some in your gift box, you can open one up, and then add one to your tree again. The message will pop up again and you can share another pile of Special Presents. As long as you have 20x presents in your tree and some in your gift box you can continue this.
When you do this with a friend (or multiple friends) you can go on forever (until 7 January) and receive hundreds of extra presents.
A rabbit is hiding inside the phase 6 tree.
See Also
Edit