The Holiday Tree (2011) is a Building in FarmVille.
It due for release as part of the Winter Holiday Event (2011). The tree stores special gifts, called Holiday Gifts, that you can receive from your friends.
The Holiday Tree works like many of our other item-gathering style events in FarmVille. You acquire Holiday Gifts through various methods, then "Use" them to put them underneath your Holiday Tree. As you accumulate Holiday Gifts under your Tree you can redeem them for exclusive prizes.
You can acquire Holiday Gifts by:
Harvesting your Santa's Sleigh.
Requesting a Holiday Gift from your neighbors directly (by clicking on the "Ask for Gifts" button).
Receive a Holiday Gift from a neighbor who uses the Free Gifts page.
Purchase 5 Holiday Gifts at a time by clicking on the "Buy Gifts" button (for  5 cash).
Click on a Holiday Gift-related feed where you can receive a Holiday Gift.
Harvesting neighbors Santa's Sleigh (they must build at least level 1) when you visit them.
As you put Holiday Gifts underneath the tree you'll see candy cane meter on the left fill up. The physical look of the Holiday Tree on your farm also changes depending on how many Holiday Gifts you put into it.
Using Holiday Tree
Edit
You will immediately be entered into Placement Mode. You can place the Holiday Tree on your farm now, or you can choose to place it in your Gift Box for use later. You'll need to be level 5 or higher in order to place and use the Holiday Tree.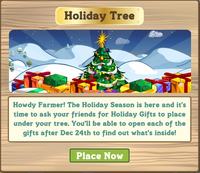 Once the Holiday Tree is on the farm you can click on it, then select "Look Inside" to see this window: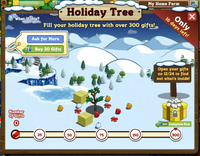 If you wind up selling the Holiday Tree for some reason, you can purchase a new one in the Market for 1 coin; however, farmers were still limited to only 1 holiday tree.
| Stage 1 | Stage 2 | Stage 3 | Stage 4 | Stage 5 | Stage 6 |
| --- | --- | --- | --- | --- | --- |
| 0-9 Gifts | 10-49 Gifts | 50-99 Gifts | 100-149 Gifts | 150-299 Gifts | 300+ |
| | | | | | |

Fill up your Holiday Tree with gifts and redeem them for special prizes! Then you can send that item to friends as presents that can be opened on December 25, 2011.


Gifts Revealed
Edit