To obtain the Knock on Wood ribbon, a farmer must harvest trees. Any trees may be harvested and they may be of the same type or different.
Ribbon Rewards
Edit
Cherry Trees
Edit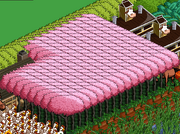 Cherry Trees can be harvested once every two days, which is the shortest amount of time of all trees in FarmVille. Hence, they can be very helpful when trying to attain the Knock on Wood ribbon. Pictured below is a sea of 156 Cherry Trees which were planted, 16 to a plot, just to earn this ribbon.
The Yellow Maple Tree was a better option, as it provides more money for the farmer. Initially, this tree was only available during the Autumn Event, but on 30 April 2010 this tree was re-introduced as a gifting item.
The Ornament Tree I and Ornament Tree II are even better options, as it provides even more money for the farmer. However, these trees were only available for the duration of the Winter Holiday Event.
Ad blocker interference detected!
Wikia is a free-to-use site that makes money from advertising. We have a modified experience for viewers using ad blockers

Wikia is not accessible if you've made further modifications. Remove the custom ad blocker rule(s) and the page will load as expected.