LadyBug


—Image © Zynga
Information

First date available:
unknown
Last date available:
available
Part of:
Bugs Collection
Sell for:
 5 coins

Probability:
Common

The Ladybug is part of the Bugs Collection. It can be found via fertilizing a neighbor's farm or hatching a White Mystery Egg. It is modeled after the real world Ladybug or Ladybird.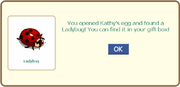 Ad blocker interference detected!
Wikia is a free-to-use site that makes money from advertising. We have a modified experience for viewers using ad blockers

Wikia is not accessible if you've made further modifications. Remove the custom ad blocker rule(s) and the page will load as expected.