Lighthouse Cove (farm)
Comments

19
14,329pages on
this wiki
Lighthouse Cove Logo

—Image © Zynga
Information

First date available:
August 31, 2011
Last date available:
available
Minimum Requirements
Player Level:
15
Early Access Cost:
 55 cash

For other uses, see Lighthouse Cove (disambiguation).
The Lighthouse Cove farm is an extension of FarmVille. It was first mentioned in FarmVille on August 31st, 2011. Later, on September 12th, 2011 it was introduced with early access for 55 FarmCash. It was released to all players for free on September 19th, 2011 by offering a free boat ticket. It is the second expansion after the English Countryside and offers a third farm if you count the home farm every player has from the beginning. You have to be at level 15 or higher to have access to the Lighthouse Cove farm.
On January 31st, 2012 Zynga release license to seed Lighthouse Cove crops on other farms and to transfer items between farms via Storage Cellar. This license was cash only. Next to that was a version with a greyed out buy button and when you moved a cursor over it, writing that it's "coming soon" and that one of the conditions is that the Lighthouse Cove should be upgraded to level 10.
On March 23rd, 2012, during the Player Appreciation Week Event (2012), all players are offered a free shipping license for upgrading the Lighthouse Cove to level 10, and should the player already have the Lighthouse Cove at level 10 then the player is required to harvest and may required to use the 'Look Inside' option to trigger the Pop Up notification. When the player has met the requirements, the shipping license will be found in the Gift Box.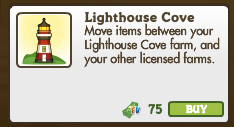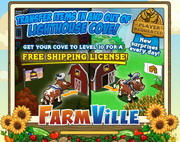 The following items are locked to the Lighthouse Cove farm. See: Lighthouse Cove Event for items that were released to multiple farms.
Quest Series
Edit
Farm Expansion
Edit
Main article: Expand Farm
See Also
Edit
† - These farms are expansion farms of the Home Farm and are not considered to be a true farms with quests.
* - These farms are not considered to be a true farms because they will not have any farm expansion nor will they have any quests.