The Mistletoe Lane is an expansion of FarmVille.
Acquisition
Edit
FarmVille released the 8th Farm on November 5, 2012 to start with early access for
 35 cash. It was released for free to all players on November 19th, 2012. You need to be Level 15 or above to get this extra farm.
On October 1 2013; Zynga made all farms including this one accessible to all players, even if you have not performed any of the required quests and never have visited this farm before. You needed to be at Experience Level 15 or above to use this extra farm.
Early Access
Edit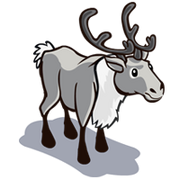 If you buy early access you will get a free Tundra Reindeer, option to do Mistletoe Lane Chapter 1 Quests and Mistletoe Lane Chapter 2 Quests. Also you will have a chance to do exclusive Nicks Running for Mayor Challenges.
Cheer Points
Edit
Cheer Points
(commonly termed as CP), and
Cheer Level
, are the new
experience
system for Mistletoe Lane. These are similar to the
Spook Point
or SP system in
Haunted Hollow
, and the
Zen Point
or ZP system in
Jade Falls
. Similarly, you have to get started at Level 1 once again.
How to gain Cheer Points
Edit
You can earn these points in a number of fun ways:
Improving your Holiday Square
Opening the Tree Stumps
Purchasing Limited Edition items
Entering and Voting on photos in the Photo Feature
Upgrading the Patisserie
Purchasing expansions for your Farm
As with previous expansions, all players will start out as Level 1 in Mistletoe Lane, regardless of your level on your Home Farm or other expansions.
The following items are locked to the Mistletoe Lane farm.
Exclusive Animal Pen - Animal Workshop
Edit
Main article: Animal Workshop
Crafting - Patisserie
Edit
Main article: Patisserie
The crafting building for Mistletoe Lane is a Patisserie. It can be upgraded in 5 stages, like all previous crafting cottages.
Decoration and Storage
Edit
Decorations
Edit
Mistletoe Lane Vehicles
Edit
Holiday Square
Edit

The
Holiday Square
is a new permanent (unmovable) feature for this farm. It has 7 stages and needs 439 parts to be fully constructed. It uses 3 types of materials -
Lamp Posts
,

Cobblestones
and
Benches
.
Treasures
Edit
Farm Expansion
Edit
Beat Mistletoe Lane
Edit

The rewards for beating Mistletoe Lane are

Beat Mistletoe Lane Trophy, a Mistletoe Lane Shipping License, and some CP and XP. For a list of what crops are needed for the Crop Mastery portion.
Upgrade Town Square to level 7 - reward is Instagrow Potion
Master selected Mistletoe Lane crops to Level 3: Choco Mint, Cider Apple, Flint Corn, Frost Holly, Holiday Cactus, Holiday Poinsettia, Hollowberry, Honey Ginger, Jingleberry, Light Orchid, Potatornament, Rudolf Radish, Wax Bean, White Cranberry, Winter Grain, Winter Squash - reward is  4,000 cheer points
Have a 5 star Patisserie Shop - reward for completing is  2,000 cheer points
Get the highest level animal in the work shop - reward is 3 Turbo Chargers
See Also
Edit
Normal/Standard farms:
Release order
Alphabetical order