The Mustard is a seed in FarmVille. Before release on June 8, 2012 image has been seen in the FarmVille database and it can be seen on the McDonald's Farm.
Leaderboards
Edit
It was part of Leaderboards with Mustard Fest that started on June 28th, 2012 and lasted until July 4th, 2012. For this task you need to harvest Mustard. Predefined rewards for harvesting predefined amounts of Mustard are: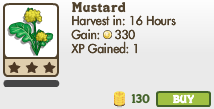 Main article: Mastery
Mastery
Level 1
Level 2
Level 3
Mastery Total
350
350
350
1,050


—Image © Zynga



Stall and Bushel
Edit
Growth Phases
Edit
See also
Edit
Showing 50 pages starting from page 1:
Showing 50 pages starting from page 1:
Ad blocker interference detected!
Wikia is a free-to-use site that makes money from advertising. We have a modified experience for viewers using ad blockers

Wikia is not accessible if you've made further modifications. Remove the custom ad blocker rule(s) and the page will load as expected.