A Plot is the basic unit used for growing crops in FarmVille. Any seeds purchased from the Market must be planted on a vacant plot. A plot is initially created by using the Plow Tool on an empty plot.
A plot may only hold one crop at a time, and must be harvested and plowed before another crop may be planted. If desired, a plot may be returned to be an empty space by using the Delete tool. A plot may also be moved to another location on the same farm by using design mode.
Types of Plots
Edit
All Farms contain this type of plot.
This type can be planted with a crop, and after the crop is harvested it becomes Fallow Land.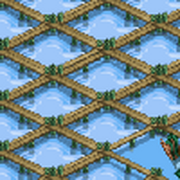 Introduced with the release of Hawaiian Paradise.
N/A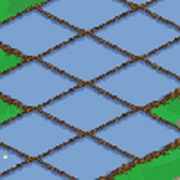 Introduced with the release of Jade Falls.
N/A
Underwater
Edit
Introduced with the release of
Atlantis
.
N/A
Fallow Land
Edit
Fallow land is a plot that has not been plowed. After a crop has been harvested, the soil it was on becomes fallow land. Fallow land is of no use, as nothing can be planted on it. Farmers must plow fallow land to enable crops to grow there again. Plowing each fallow plot costs 15 coins and give 1 experience.
Size and Squares
Edit
Farms in FarmVille are built upon a network of squares which define where objects may be placed. The smallest objects occupy only a single square, which is the size of a Hay Bale. This unit of area is referred to as being of size "1x1". A crop plot is 4x4 squares, which is the same size as 16 hay bales arranged in a square shape. The Tool Shed and the Small Pond are the same size as a single plot.
Except in a few special cases, only one object may occupy a square at a time. Items placed in a Storage building do not actually take up any space on the farm, nor do animals placed in a Dairy Farm or Chicken Coop, nor do Flowers placed in a Garden Shed.
However, the ends of sections of fence can be overlapped to create a line of continuous fencing. One fence is of size 1x5, two in a row are 1x9, three are 1x13, and so on. A few special decorations like the Gargoyle Gate and the String Lights could be used as gates in fencing.