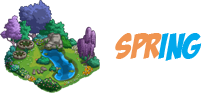 Spring Event


—Image © Zynga
Information

Start Date:
April 21, 2011
End Date:
May 5, 2011
Required minimum level(s):
see Template:infobox-umbrella for template instructions
Items released during this event
Animals
0
Buildings
0
Decorations
9
Seeds
0
Trees
0
Avatar Clothing
0
Other
0
Total
9

The Spring Event is an event that occurred in FarmVille. It started on April 21st 2011 and ended on May 5th 2011. During this time, farmers could purchase special items. Like last year's Spring Time Event, a Spring Basket (2011) was held where in players may use the flowers they have collected from their Spring Garden.
During this event, new limited edition spring/Easter-themed items were released, which could be bought from the market or sent as gift.
See Also
Edit