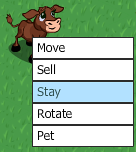 The Stay option is a setting that farmers may select for their animals. To set an animal to stay, a farmer must right-click it and choose the Stay option. If an animal has been told to stay, it will not move at all. The opposite to this is Allow Walk which will allow an animal to wander a farmer's farm. If you put an Invisible Cat to stay it will only have it's grin.
Ad blocker interference detected!
Wikia is a free-to-use site that makes money from advertising. We have a modified experience for viewers using ad blockers

Wikia is not accessible if you've made further modifications. Remove the custom ad blocker rule(s) and the page will load as expected.