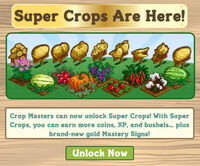 Super Crops are Heirloom Crops in FarmVille that were released on July 21, 2011. They require the regular version of the crop to be mastered, and they give more coins, XP, and bushels than the regular version of the crop.
All Super Crops can be planted on ALL available farms (like limited time crops), even if you do not have license for basic crop!
6 additional Super Crops were released on August 1, 2011, bringing the total Super Crops to 15.
Please note: Super Crops only grant bushels for the basic version of the crop. This means that if I harvest Super Strawberries and find a bushel, it will be a normal Strawberry bushel, not a Super Strawberry Bushel. Because of this, you cannot use bushels on Super Crops to gain a Mastery Bonus.
The 9 original Super Crops released on July 21st, 2011:

6 additional Super Crops released on August 1st, 2011:

6 more Super Crops released on August 12th, 2011:
4 Lighthouse Cove Super Crops released on October 13th, 2011:
4 Winter Wonderland Super Crops released on April 3rd, 2012:
Gallery
Seeds

All farms/non-restricted

Farm Specific Crops

Australian seeds/crops go here!

Unreleased Crops

† - Early Access purchase required       ‡ - Limited Edition seed