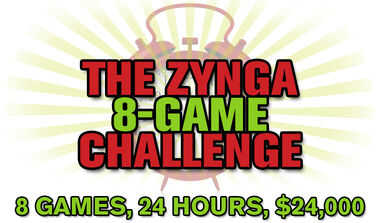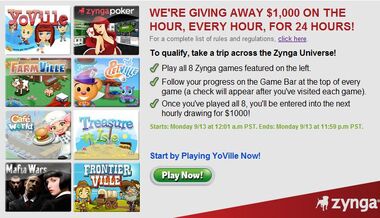 The Zynga 8-Game Challenge was announced on Monday August 13th, 2010. It was announced hours after the event had already started.
It requires you to play 8 Zynga games in the following order to be placed in a draw for $1,000 each hour.
To participate, these games must be unblocked.
There were many angry players when they read the rules & regulations for the promotion:

The Promotion is open to registered members of Facebook in compliance with the Facebook Terms of Use, who have provided their email address to Provider, who are United States citizens eighteen (18) years of age and older as of September 12, 2010, and in all countries and jurisdictions where the event is permissible by law or regulation. The Promotion is subject to all applicable federal, provincial, and local laws and regulations. PROMOTION IS VOID IN NORWAY, BELGIUM, SWEDEN, INDIA, PUERTO RICO, THE U.S. VIRGIN ISLANDS, U.S. MILITARY INSTALLATIONS IN FOREIGN COUNTRIES AND ALL OTHER U.S. TERRITORIES AND POSSESSIONS AND WHERE RESTRICTED OR PROHIBITED BY LAW.

Ad blocker interference detected!
Wikia is a free-to-use site that makes money from advertising. We have a modified experience for viewers using ad blockers

Wikia is not accessible if you've made further modifications. Remove the custom ad blocker rule(s) and the page will load as expected.