Tombstones were a decoration in FarmVille.
Acquisition
Edit
They were available during Halloween Event (2009), making them currently unavailable to farmers.
This item was re-released for a limited time for the Halloween Event (2010). Introduced on October 22, 2010 and remained available for 10 days.
Ghost Cow
Edit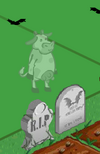 This item includes an animated ghost cow which raises up from the tombstone until it disappears every 20 seconds.
Ad blocker interference detected!
Wikia is a free-to-use site that makes money from advertising. We have a modified experience for viewers using ad blockers

Wikia is not accessible if you've made further modifications. Remove the custom ad blocker rule(s) and the page will load as expected.