Acquisition
Edit
The Valentine Pony is a limited edition animal in FarmVille. It was originally released on February 03 , 2011 for a limited time as part of the Valentine's Day Event (2011).
It was re-released on the December 14th, 2011 as part of the Winter Holiday Event (2011), available to purchase from the market for

 26 cash and
 2,600 experience gain.
Main article: Mastery
Mastery
Level 1
Level 2
Level 3
Mastery Total
N/A


—Image © Zynga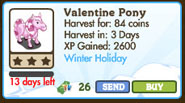 See Also
Edit