The Weathervane Home is a building which was available in the 18th Generation Mystery Box.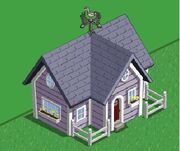 Country Picnic •

Red Bicycle •

Tire Swing •

Hot Tub •

Gold Gnome •

Water Tower •

Fire Pit •

Lounge Chair

Acai Tree •

Manor •

Gazebo •

Large Pond •

White Owl •

20 Fuel Refills •

30 Fuel Refills

Koi Pond •

Waterfall •

Water Mill •

Porcupine •

Fire Circle •

Kiln

Duck Whirligig •

Male Mandarin Duck •

Duckling Fountain •

Mallard Lounge •
Mandarin Pond •

Weathervane Home

Big Horn Sheep •

Woodchuck •

Cactus Inn •

Adobe Shop •

Rock Hot Tub •

Oasis
Ad blocker interference detected!
Wikia is a free-to-use site that makes money from advertising. We have a modified experience for viewers using ad blockers

Wikia is not accessible if you've made further modifications. Remove the custom ad blocker rule(s) and the page will load as expected.