The subject of this section was part of the Winter Holiday Event (2010), an event that lasted from November 24, 2010 until January 31, 2011. Since the event has run its course, this may no longer be available.
The Winter Carriage is a limited edition decoration in FarmVille. It was originally released between November 28th, 2010 and December 23rd, 2010 as part of the Winter Holiday Event (2010). This decoration had an initial cost of

 20 cash, and awarded
 200 experience at the time of purchase. It can be sold for

 2,500 coins.
It was re-released on the December 14th, 2011 as part of the Winter Holiday Event (2011), available to purchase from the market for

 20 cash and
 500 experience gain.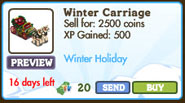 See Also
Edit
Ad blocker interference detected!
Wikia is a free-to-use site that makes money from advertising. We have a modified experience for viewers using ad blockers

Wikia is not accessible if you've made further modifications. Remove the custom ad blocker rule(s) and the page will load as expected.