Wreath Horse
Comments

0
14,461pages on
this wiki
Wreath Horse

—Image © Zynga
Availability
Warning! This template is using obsolete parameters! This may cause this or other pages to display inappropriately (or not at all). See the template page {{Animal}} for more information.
First date available:
unknown
Last date available:
available
Source:
Market
World Location:
Wreath Horse cannot be placed on any farm.
Tile type:
Wreath Horse cannot be placed on any square.
Information
Storage:
Horse Stable
Horse Paddock
Harvesting
Time until harvest
(on farm): 3 days
(in building): see article text
Husbandry
How-to:
Breeding Horses
Gender:
♀ Female
Offspring:
Wreath Foal
Alternate breeds:
Main list: [view] [purge]
The Wreath Horse is a limited edition animal available on FarmVille. It was originally released on the December 14th, 2011 as a part of the Winter Holiday Event (2011), available to purchase from the market for

 26 cash and

 2,600 XP gain.
When harvesting a Horse Stable that contains a Wreath Horse and any Stallion, there is a chance to find an Wreath Foal to share with your neighbours.
When placed in a Horse Paddock, you can also have a chance to produce different foals.
Main article: Mastery
Mastery
Level 1
Level 2
Level 3
Total
N/A

—Image © Zynga
Breeding & Foals
Edit
This template has been deprecated. Please use Template:Breeding Horse Stable, and/or Template:Animal Pen instead.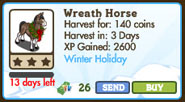 See Also
Edit
REDIRECT template:animal nav